Grow Your Finances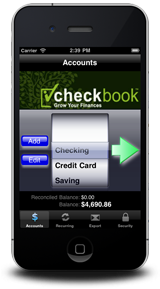 The iCheckbook app is a digital checkbook/registry that runs on mobile devices, such as your iPhone, and is designed to help you manage your bank accounts while on the go. iCheckbook is streamlined for quick entry at the checkout counter, you will easily find your way around your accounts with the app's clean and well organized interface. NO MORE, logging transactions in a paper register and manually calculating the balances. The iCheckbook application will consistently and reliably keep your account balances up to date. Never before has it been this easy to view all your financial data on a mobile device.
Access to your accounts are just a tap away
At start-up, the Home Screen will give you quick access to all the accounts that you have decided to manage with iCheckbook. This screen gives you quick information about each account as you select it in the account picker.
Fast, no matter how many transactions you have
All calculations are performed directly on the internal database, allowing iCheckbook to keep up to your fast pace life. The app is intelligently designed to work with you to provide the best performance possible. This allows you to input and manage your information efficiently.